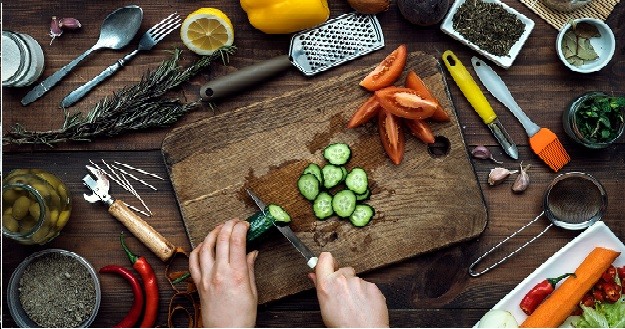 Our high-speed and time-constrained lifestyles have led to the rise of the food convenience industry and its significant impact on society's food consumption behaviors and loss of cooking skills.
With the high availability of frozen prepared meals, grocery prepared meals, fast take-out and sit-down restaurants, many people are now eating less home prepared meals and more convenience foods. In the 90s, 36% of the American population ate three or more prepared convenience foods weekly; but this has increased to 56% recently. That means that over 56% of our food budget is being spent on fast food or in restaurants.
Consumption of fast food and food from away-from-home locations is associated with lower diet quality and obesity among adults. National dietary intake data shows that each meal away from home is related to an increase in calories by 130 per day and a reduction in diet quality.
Food prepared at home provides fewer calories per eating occasion, and on a per-calorie basis, provides less total and saturated fat, cholesterol and sodium, and more fiber, calcium and iron compared to food prepared away from home.
Believe I know that above is a lot of data and truly, with as busy as we are, who can change this? I am a Plant Based Chef and I love to prepare meals, but truthfully after a long day at work the last thing I want to do is stand in front of the stove preparing a meal that will take 1 hour or more away from the 4 hours I have at home before I have to get up and do it all again.
There are a lot of ways to prepare healthy meals and this is what this blog will be focusing on along with all kinds of tips and tricks to make living a healthy lifestyle easier. So let's focus on some tips and tricks first, that I use, to help you with making meals faster:
Purchase your vegetables already chopped. I buy baby carrots, celery, spring pea pods, broccoli and cauliflower florets in already chopped or prepared bags. Then for the celery and the carrots I put them in glass or plastic dishes and add water and put them in the refrigerator. It helps keep them for a week or more. *Just remember to change your water every other day. For the broccoli, cauliflower and spring pea pods I take them out of the plastic bags and put them in a Tupperware dish and add a paper towel. What is great about the prepared is that you can add them to a wok or skillet and make stir fry in just a few minutes or you can enjoy them raw with a wonderful homemade hummus.
Instant Pot! What a wonderful creation and it saves so much time and energy. You can pressure cook baked potatoes, rice and all kinds of soups. The vegetables are wonderful in a pressure cooker. One of my favorites is broccoli bisque by Chef AJ. Everything goes in chunks in the pressure cooker, cooks for 10 minutes and then is blended using an immersion blender. How easy is that?
Lettuces. I cut up romaine lettuce and add others types of lettuce and place in a Tupperware dish with a paper towel on top. This will keep for about 5 days. Sometimes the edges of the lettuce (romaine) will get a little brown, but you can cut those off before making your salad. 1) choose all of the toppings that you love that are prepared; shredded carrots, celery, edamame, red cabbage, beets, favorite beans, nuts etc. There are so many things in your local grocery stores that are prepared. I take the items out of their prepared bags and containers and then place in glass mason jars or glass containers. Then I put these in the refrigerator in an organized manner so that each day I can pull out what I need in handfuls and add to the lettuce, 2)I also make a weeks' worth of dressing also and keep in a mason jar. In the morning I just add it to a small Tupperware container and I am ready to go, and 3) think about how beautiful your refrigerator will look with the greens, yellows, oranges, reds, etc. Also don't forget fresh fruit; blueberries, strawberries, etc.
Crockpots! Crockpot's are still out there and think about making baked potatoes and sweet potatoes and soups. They are wonderful because you can put the food items in the morning and then they are ready when you come home. There is nothing better than walking into your home after a long day and having it smell wonderful.
I know that this might sound like a lot but if the fruits, vegetables and starches are available in your refrigerator you will find that it is easier to enjoy a healthy lifestyle. So what do I have in my refrigerator right now that make my life easier?
Fresh vegetables – all prepared for salads, along with romaine lettuce.
Fresh fruit – strawberries and blueberries (both on sale) for my refrigerator oatmeal that I just take out in the morning, put in the microwave for 1 minute and then add fresh fruit. Also fresh grapes at all times and bananas on the counter.
Prepared potatoes. While I was watching TV last night, I dumped a bag of prepared cubed potatoes on a parchment lined baking sheet with lemon pepper and a little bit of vegetable broth. I put them in a 350 degree oven for about 30 to 45 minutes until golden brown. These were wonderful. Another quick and easy way is to add vegetable broth and a sprinkle of Bragg's Amino. Yummy.
Cold water drinks – ICE apple which is my favorite.
5 prepared Tupperware dishes with homemade Mac and Cheese. When you are hungry for lunch this is wonderful.
15 prepared vegetable dishes. Asparagus and red peppers with lemon, roasted green beans with lemon pepper and Brussels sprouts and cauliflower with Braggs. I have enough to last me all week. YUM!
Whole Wheat Wraps. Love them because you can add some homemade hummus with the prepared vegetables and you have lunch or dinner on the go.
I hope you enjoyed this blog post. Stay tuned for my next blog, next week, on what I have in my pantry.
With Much Cooking Love,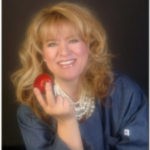 Kelley
Plant Based Kitchenista
Research numbers from  ncbi.com.