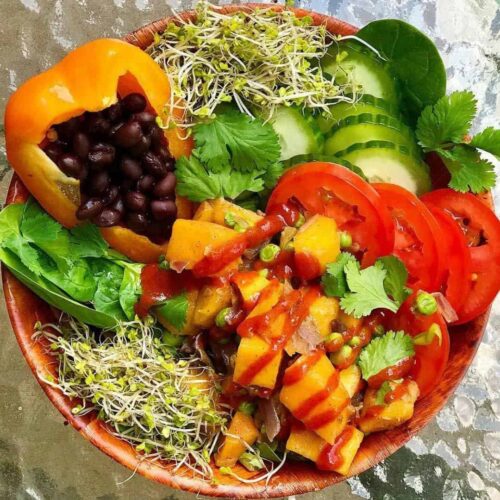 Print
Butternut Squash Medley
Enjoy the satisfaction of this carbohydrate-rich meal including butternut squash, black beans, and roasted peas in combination with the crisp flavor of fresh peppers, tomatoes, and cucumbers. Add some greens, cilantro, and sprouts to add variety and a flavor explosion!
Ingredients
2

cups

butternut squash

cubed

1/2

cup

canned black beans

low-sodium

2

medium roma tomatoes

2

cups

orange bell pepper

large

2

cups

cucumbers

small

2

cups

"mixed greens" lettuce

2

cups

frozen sweet peas

black pepper

cilantro

broccoli sprouts

sriracha sauce
Instructions
Preheat the oven at 350°C. Place the cubed squash and sweet peas in a large bowl and toss with a generous amount of fresh cracked black pepper. Place on a cooking sheet and bake for 60 minutes, until the squash is soft and slightly browned.

Slice the cucumber and tomatoes with your preferred thickness. Slice the bell pepper in half.

Drain the black beans and rinse thoroughly.

Place the mixed greens in a bowl first. Add the cucumbers, tomatoes, and baked squash with peas. Stuff the bell pepper with the black beans and place in the bowl.

Garnish with broccoli sprouts and chopped cilantro. Top with lemon slices, sriracha sauce, or spices like chile powder, curry powder, cumin, or add your favorite vinegar!!! Enjoy!!